Every youngster deserves to travel abroad on their own at least once. Usually, parents will send their children to relatives who live abroad for them to have this experience. An experience that is likely to be spent doing what their relatives do day in, and day out in another country. However, the experience may not be that valuable to developing minds and travelling abroad is really worthwhile when it's done as part of an educational experience. Few schools have their own programmes for students so that's why it's important for international students to join a summer school programme.
This gives them a safe space in which to travel, explore and discover new cultures, people and places. They've got a list of activities to keep them busy during their stay and they're able to learn, learn and learn some more. And since they're learning why not learn a modern language that brings with it numerous opportunities? Both academic and lifestyle opportunities.
What is An International Summer school?
An international summer school is an educational programme that takes place abroad. There are several characteristics of this type of programme but most of them (ours included) will teach one subject that learners would benefit from improving. These programmes are devised to help students master or improve their skills on that particular subject, making academic and personal advancement easier. The best part about travelling abroad to an international summer school is that these trips can look great on university, college and even high school applications.
What Is The Duration of An International Summer school?
It would really depend on the programme you've joined. But in most cases they're slightly shorter than the school summer holidays of the country they're in. In Britain for instance, our schools have a seven week long summer break. This coincides with the duration of our summer school that learners can participate in for up to seven scheduled weeks from late June until mid August. Most of our students come for 2 to 3 weeks and a lot of our students return year after year.
Throughout this time they improve their English language skills while partaking in 4 hours of English lessons a day for 4 mornings a week – so 16 hours of English lessons a week.
What's On Our International Summer School Course?
Usually each week is planned out meticulously by the course administrators. That way learners (and their parents) know what's on the agenda. The course will include significant hours each week dedicated to the subject. In our case this would be the English language and developing skills at our language centre. It would also include significant time for learners to participate in cultural activities, and in some cases visit historic landmarks and areas. There should be a balance between learning, cultural excursions and fun activities for a summer school to give learners the best experience. This way your young mind is always being stimulated, excited and intrigued. It makes whatever you're learning easier to grasp, remember and use in real life circumstances. A summer school that focuses too much on one aspect isn't the best summer school. The good news for the teenagers that attend our summer school programme is that we've balanced our programme to focus on all three: language learning, cultural excursion and immersion and fun activities.
Can You Improve Your English In An English Summer School?
It can be difficult to grasp in the beginning. But learners can and do improve their English substantially after attending our British summer school. That's probably because we spend 16 hours a week teaching English to foreign students in our language training classes. This is done in an interactive and inviting setting amongst their peers. Learners are in groups with other learners and they all share the same goal – to learn English. This motivation is palpable and drives each student to learn the language and do their very best during their summer English course. They've also got the opportunity to speak the language 24/7 as they're interacting with British residents and expert tutors for the duration of their stay. The tutors are in fact the reason learners grasp the language so quickly. Most of them understand how to teach English, whether it's to absolute beginners or learners that are more advanced. And they're able to keep learners attention for the entire lesson. As you already know, if learners are engaged, attentive and interested in the subject they'll learn it far quicker. They also try to make language learning fun for those learning English.
What is An English Summer school?
An English summer school provides learners with not only the language lessons they need to become confident speakers and writers of the language, but it also serves as a way to have learners learn through cultural interaction. It's been proven that people learn more by doing and experiencing rather than through classroom lessons alone. Plus, these summer schools wouldn't do much good for learners if they only focused on language lessons.
An English Summer school programme ensures learners are learning in a classroom setting, through interaction with native English speakers and through cultural experiences. It relies on less rote memorisation and more on active learning. This method produces the best results in terms of how quickly and how well learners can speak the language.
Over the course of the 20+ years we've been doing this, learners leave the programme more confident in their abilities, surpassing learners who didn't learn through an English immersion summer school.
Travelling to UK for Summer School? Accommodation on Summer school?
If you're making your way to our summer school, accommodation will not be an issue. All of our learners are given accommodation with one of our host families. This truly rounds out their stay, as they're able to interact with a British family everyday after spending time with other learners. A host family is a British family who is kind enough to open their home to a student. These are homes we've inspected to make sure our students are given the best experience possible.
Students will be placed with other students of a different nationality and mother tongue to enhance the English language learning experience. They also have dinner with the host family and share in the families other amenities so learning the English language is an all day, every day experience. On Sundays students will participate in what is known as host family day, where they'll spend the entire day interacting with their host family. All our host families are kind and go out of their way to ensure the student is accommodated, and feels welcome.
Students now have the opportunity to speak with a native English speaker and practice the skills learnt at our language centre. They're able to learn how to speak in a natural setting and not just in class. The longer students stay the more confident they'll become in their speaking abilities. This is as a result of the combination of learning the language in class and speaking to natives. Students now know how to use the language in an everyday setting, which reinforces anything they've learnt in class that day.
Summer School Activities:
Students who participate in our summer school from the end of June to the beginning of August this year can expect an exciting array of activities. Each week we make our way to different cities in England, visiting local monuments and main tourist attractions in the process. Every Wednesday we make our way to London, so students can experience England's capital city first hand. These are full day trips that make our summer courses more fascinating for learners.
We'll make our way to the heart of London as well as visiting Portsmouth, Hastings and Arundel. That way learners aren't only experiencing one English city but several on their trip.
A full day excursion will normally include lunch, a visit to a historic landmark, and a visit to an entertaining place. Besides our full day excursions we have a wide range of weekly activities that happen on learning days. Students are able to participate in quizzes, drama, and other activities they'll enjoy with their peers.
Read more about our full range of summer school activities in our "Multinational Summer School Activities" post.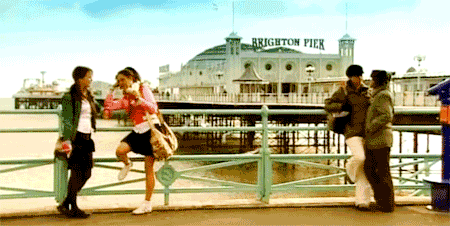 Why Brighton Is the Best Place For Summer School in The UK?
Brighton is a vibrant city in England and one of the best places for a student to experience English culture. Locals are friendly, welcoming, helpful and cheerful. It's also a cultural hub, home to many arts and culture districts, and local landmarks. The best part about being in Brighton for the summer is the lovely beaches and excellent weather. Temperatures aren't too warm or too cold, but just moderate enough for visitors to enjoy the weather (and their stay). You'll find popular English destinations in Brighton including the Brighton Palace Pier, British Airways i360 and a treasure trove of parks, gardens and museums. Brighton is also home to an equally boisterous school district.
An English summer school is by far your best option for learning, exploring and participating in an international adventure while you're still young. You're able to meet like-minded teens and forge lasting bonds. You'll also have the added benefit of creating lasting memories and visiting exciting places, where you'll have amazing experiences. Experiences and memories that you can share with your friends and family back home.